In a time when children are feeling so much division and stress, 
Aanika's Elephants
is a play about compassion, love and conservation.
Aanika's Elephants is the story of a young Kenyan girl who meets a baby elephant (Little) at the orphanage where her father works.  They grow together the way only two young girls can, even if one has a trunk.  When Aanika's father dies (gently presented with gloves and hat removed by elephant trunks), she becomes the ward of an uncle who wants her to quit school to cook and clean for him.  She flees into the bush making one final farewell to Little.  Camping that night in the bush the way her father taught her, she is frightened by crashing branches and discovers Little has followed her.  They become a herd of two, working together to survive and steer clear of humanity.  Adopted by a small herd of elephants, Aanika learns their very beautiful, civil ways.  She is finally tested when she must save her new family from poachers.
It's a story that shows how family can be anything -- a beloved, widowed father or even a herd of elephants. The audience can use their imaginations to fill in the large rattan-framed elephants, adorable baby elephant and people represented by just hats and gloves.  With music, a variety of puppets and humor, Aanika's Elephants entertains and educates both adults and children on the plight of the elephant and our world.
NEW YORK CITY, NY
New Victory Theater
It's important to us to bring this show to as many children as possible.
In order to continue to bring Aanika's Elephants to as many children as possible, we need your help. 
ARE DONATIONS TAX-DEDUCTIBLE?
HOW DO YOU USE DONOR INFORMATION?
Join Aanika's Mailing List
and get updates on our adventures and mission!
AANIKA'S ELEPHANTS HAS BEEN DEVELOPED
WITH SUPPORT FROM
Jim Henson Foundation, Ridgefield Theater Barn, Tryon Fine Arts Center, and Center for Puppet Arts
This production originated at the Center for Puppetry Arts.
Aanika' Elephants is presented by Feisty Elephant, Pam Arciero Productions and Little Shadow Productions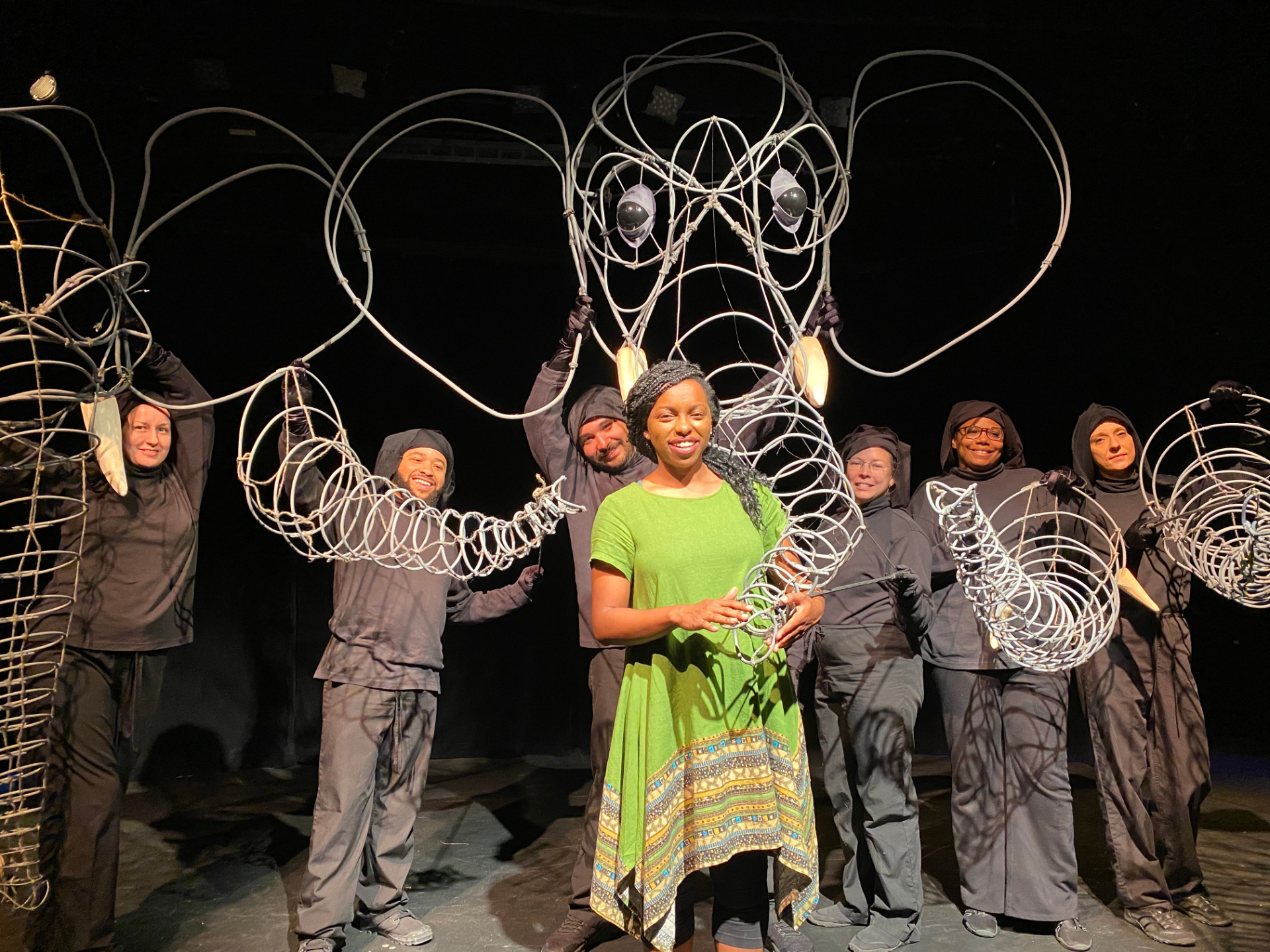 Jimmica Collins leads our very experienced cast as Aanika. She guides us through the story playing herself at ages 10 and 12.  The puppeteers play all the other characters from huge elephants, an evil uncle to a trap door spider.  Two live musicians add an underscore of sounds and drumming. 
Aanika's Elephants is ready to tour!
We are currently booking a tour as of spring 2024. We'd love to come to your city!
BOOK THE SHOW
To inquire about booking the show, or to request an EPK or Tech Specs, please email [email protected]
Cast, Crew, Creative Team Credits
Tech Rider (Available August 15, 2023)
Electronic Press Kit (Available August 15, 2023)
Download The Educational Quiz for Kids